Disney Acquires World's Largest Ship Global Dream Amid Corporate Bankruptcy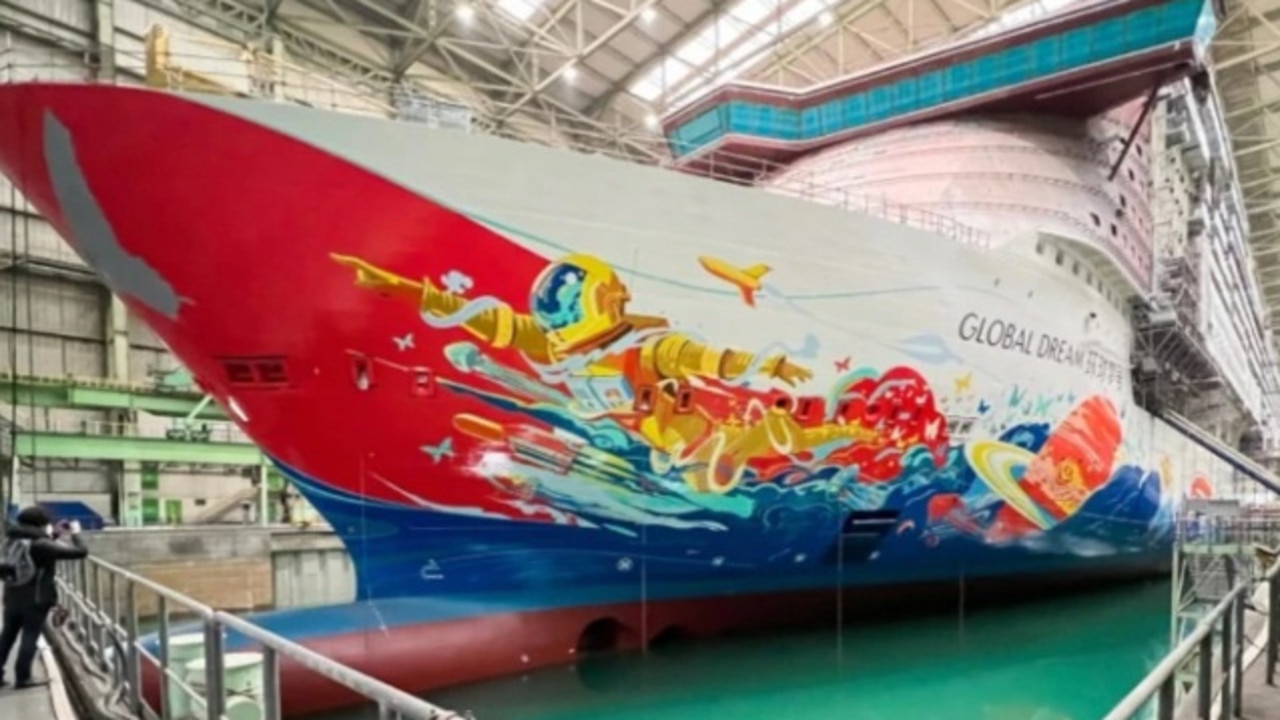 The "largest cruise ship in the world", which was to be demolished before its maiden voyage, has just been acquired by Disney.
The German-Hong Kong shipbuilding company MV Werften had almost completed the construction of the ship – Global Dream II – when he filed for bankruptcy at the beginning of this year.
She had been on the market for 10 months and if the administrators did not find a buyer, the 20-deck vessel would have been scrapped.
However, last Wednesday, Disney Cruise Line confirmed the ship's acquisition, noting that it had secured the mammoth ship for "a favorable price."
Although pricing was not disclosed, it would have cost $2 billion to build – with an additional $340 million needed for completion.
Want to stream your news? Flash lets you stream over 25 news channels in one place. New to Flash? Try 1 month free. Offer available for a limited time only >
It is currently located in the former MV Werften shipyard in Wismar, Germany, where it will remain until construction is complete under the management of Meyer Werft, the Papenburg-based company that built the Disney Dream, Disney Fantasy and Disney Wish.
The ship will be renamed with some redesigned features thanks to the expertise of its "imaginers".
"The new ship, which will be based outside of the United States, will offer innovative Disney experiences along with dazzling entertainment, world-class dining and legendary customer service that set Disney Cruise Line apart," the website reads. Disney parks.
"The exterior will be decked out in the iconic Mickey Mouse-inspired fleet colors, complete with signature red funnels."
The 189,000 tonne ship, originally built to carry 9,000 passengers – making it the world's largest by passenger capacity – will be reduced to around 6,000 with around 2,300 crew.
Its original design features included the first theme park at sea, plans for the longest roller coaster at sea, 350 meters of water slides, an inflatable obstacle course, a surf simulator, a trampoline park and mini karts.
Areas such as a large casino will also be redesigned in line with Disney Family Cruises, according to Marine Executive.
Meanwhile, the gigantic ship is set to be among the first in the cruise industry to be powered by green methanol, one of the lowest polluting fuels available.
Disney expects it to join the Disney Cruise Line fleet in 2025.
MV Werften administrator Christoph Morgen said the sale was great news for shipbuilders.
"Several hundred current and former MV Werften employees, colleagues from the Meyer Group and numerous suppliers will complete the impressive shipbuilding project in Wismar over the next two years so that it can set sail for Disney Cruise Line as a sustainable family cruise ship in the future," said Morgen.
Currently, Disney Cruise Line sails to destinations such as the Bahamas, Caribbean, Europe, Alaska, Mexico, Canada, Hawaii, South Pacific and, starting next year, Australia and New Zealand.