P305 accused ignored help messages: Chargesheet | Bombay News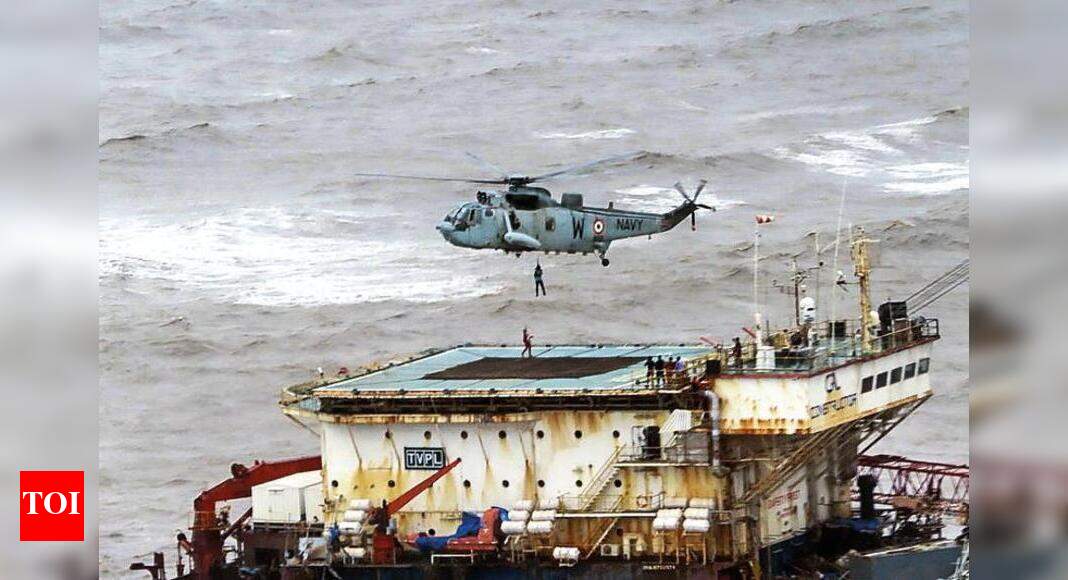 MUMBAI: Police have filed an indictment against 11 people and a company in the sinking of the P305 accommodation barge during Cyclone Tautkae on May 17. The indictment said the defendants, who were associated with several companies, had not responded to emails and WhatsApp messages. for help, causing the accident.
The 1,658-page indictment sheet indicated that lives could have been saved if action had been taken in time and the stranded crew would have been rescued. Prosecutors named the deceased captain of the P305 Rakesh Ballav and Nirankar Biswas, a representative of the Afcons company who was on board and died when the barge sank. Paapa Shipping Director Nitin Singh, Technical Superintendent Akhileshwar Tiwari and Director Prasad Rane, all of whom are behind bars, have been named in the indictment filed in Ballard Pier Court. The indictment lists 151 witnesses.
"All of the accused were well aware of the cyclone and knew that keeping the crew on board was dangerous. In addition, no tug was sent to move the barge to a safer location, "said an officer, citing the contents of the indictment filed on August 30.
A team supervised by DCP Ganesh Shinde and led by Senior Inspector Suhas Hemade is investigating the case.
Police attached a copy of an email sent by Sachendra Singh (59), an Indian Register of Shipping (IRS) agent who was on board on behalf of the CGSB at the time of the incident. "On May 14, Singh sent an email to ONGC, Afcons, Certified Engineers India Limited (CEIL) and IRS. In the mail, he alerted these businesses to the cyclone. Citing the Disturbance 2 report, sent by a company, Storm Geo, Singh said the wind speed would be 40 to 50 knots while the sea wave could reach seven to nine meters. After explaining this, Singh said Ballav said he needed enough help to move the barge. The accused did not act on the mail, "said a police officer.
Singh drowned and his body was later found.
Police attached a WhatsApp message sent by CEIL engineer Saurav Jain to his office. He had stated that six anchors on the barge had broken and that they were only two anchors. "Jain in his post wrote that it was all due to the overconfidence of the barge captain and the companies' lack of concern for people's lives," the officer said, adding that Jain was still missing in action.
Among the accused sought in the indictment are two directors of Paapa Shipping, an Afcons project manager, a vice-president (onshore / offshore operations) and a maritime operations manager. A director of the Ocean Diving Center, Durmast Enterprises Ltd, owner of Paapa 305, which had an agreement with Afcons and Paapa Shipping, is also cited as accused.